Landscaping Property with a Large Frontage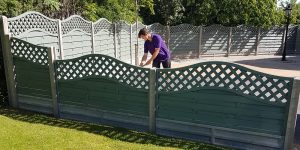 Landscaping Property – This week we have been working at a 2 year old property with a large frontage. Front border areas are full of shrubs and bare earth, with a tired looking original hawthorn hedge along one side. As well as, a standard but ugly looking wooden rail and board fence along the other side. We were asked to clear all shrubs, dig out and gravel all border areas. Then screen off the hedge and old fence. So we went in with our Micro digger and removed approximately 7.5 ton of soil. This made the new level 60mm below the drive edge. We then covered with a Weed Membrane and pegged down.
Landscaping Property
With a little guidance from us the customer chose Breedon Chippings for the border areas, we then erected a concrete post and gravel board bay fence to create the screen using 'St Mellior' Continental panels between posts. It took us two days to get them all painted before fitting them in place but I think you will agree that is was all worth it in the end. The colour chosen by the customer was Cuprinol 'Wild Thyme'. The colour contrast between the fence panels and the gravel gives the property a real modern and clean look.
Once we had left, the customer is intending to put pots out on the gravel areas with flowering plants in to provide even more colour, but would be easy to maintain throughout the seasons.
Thanks for reading,
New View Landscaping